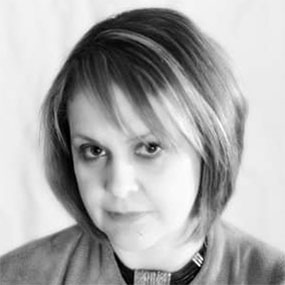 Beth Crumley has served as the Assistant Historian of the U.S. Coast Guard since October 2017. Prior to joining the Coast Guard Historian's Office, Ms. Crumley served as a Reference Historian at Marine Corps History Division and as an ordnance curator at the National Museum of the Marine Corps, where she was a member of team that planned and opened the museum in 2006.
She is the author of Coast Guard Compass blogs on the loss of U.S. Coast Guard Cutters Jackson and Bedloe, written after participating in a NOAA expedition to map wrecks off the North Carolina coast, and a blog on aviation pioneer Frank A. Erickson. Ms. Crumley also authored USMC: Three Centuries of Glory, and edited A Legacy Walk through Marine Corps and USMC: A Complete History. She has written numerous articles that have appeared in "Fortitudine," "Leatherneck," "Proceedings," and "International Committee of Museum of Arms and Military History. In addition, Ms. Crumley wrote a weekly history blog for the Marine Corps Association.
Ms. Crumley has delivered lectures on U.S. Coast Guard history to include the loss of Escanaba in World WAr II; Medal of Honor recipient Douglas Munro; the genesis of U.S. Coast Guard helicopter aviation; and Frank Erickson: Aviation pioneer, presented at Erickson's posthumous Legion of Merit ceremony at Coast Guard Headquarters. Over the course of her career, she has presented several papers at the Society for Military History and the McMullen Naval Symposium and lectured at the National Museum of the Marine Corps, the Pentagon, Marine Corps Officer Candidate School, Marine Corps Systems Command, the Freedom Foundation, and U.S. Coast Guard Headquarters. While serving as the unit historian at Marine Corps History Division, Ms. Crumley presented lectures to several Marine Corps units and veteran's groups and conducted tours of the World War I battlefield at Belleau Wood. She was also a participant in panel discussions at Marine Corps Aviation Association conference and spoke on early Coast Guard helicopter aviation at the Vertical Flight Society conference.
She has been featured as a subject matter expert on television's "Weaponology," "Lock n' Load," and "American Rifleman." Additionally, she has been nominated for the Marine Corps Heritage Foundation's Wallace Greene Award and twice-nominated for the Heinl Award for excellence in journalism.