GFOE's Valor in the Atlantic project will use our Remotely Operated Vehicle (ROV) Yogi, and our satellite capability to explore historic shipwrecks within and surrounding the Monitor National Marine Sanctuary (MNMS). This project is brought to you through a partnership between GFOE, NOAA Office of Marine and Aviation Operations, and NOAA Office of National Marine Sanctuaries with support from MNMS, NOAA National Centers for Coastal Ocean Science (NCCOS), and the state of North Carolina's Office of State Archaeology (OSA). The NOAA Ship Nancy Foster will act as the project's research platform and GFOE will equip her with the capability for "telepresence," which streams ROV video live through the internet to the public and other scientists as the dives are taking place. Our education collaborators will broadcast these live events in their venues, literally bringing the wonders of these historic wrecks to life for large and diverse audiences.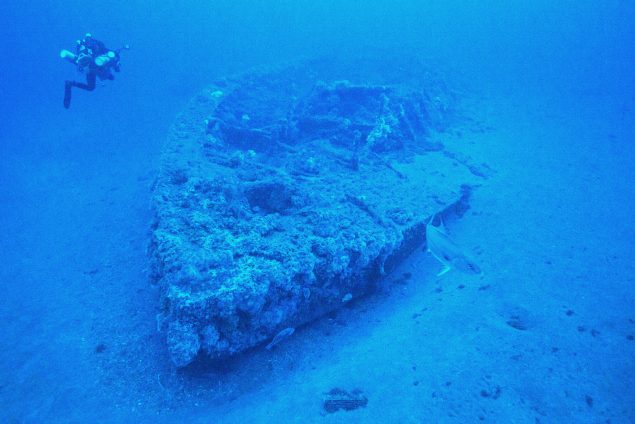 Valor in the Atlantic will investigate historic shipwrecks from the U.S. Civil War, World War I, and most predominantly from World War II's Battle of the Atlantic. Attacks from German U-boats against Allied merchant vessels resulted in the highest concentration of World War II shipwrecks anywhere in the United States, along North Carolina's Outer Banks. This project represents an ideal opportunity to honor the history and sacrifice of the Allied servicemen and the members of the U.S. Merchant Marine who fought and died during the war. While Valor in the Atlantic focuses primarily on World War II shipwrecks, it honors all those that display valor on the high seas.
The ROV dives on shipwrecks also provide direct observations of the types and abundances of fishes occupying the shipwrecks. These ROV data will be complemented by fishery echosounder surveys that use sound to "remotely sense" the locations and relative size of fish surrounding the shipwrecks. These data will be beneficial in determining the importance of shipwrecks as habitat for marine life. Both the ROV and echosounder data will help answer questions about the ecological function of shipwrecks to guide ecosystem-based management and spatial-planning decisions to ensure that the reefs and their inhabitants are sustainably used by fishers, divers, and other interests.