You do not need to buy an expensive camera to start off in underwater filmmaking! Many smartphones today are waterproof to a certain depth and even have decent video capabilities. You can also get an underwater case for your phone to go deeper. Action cameras, such as a GoPro, are also great lower-cost options and can have more features than a smartphone. Lights, color correction filters, and handles can take your footage to the next level. Remember, though, that just because your phone or action camera can go underwater, does not mean it won't sink! A float can help you if you drop your camera.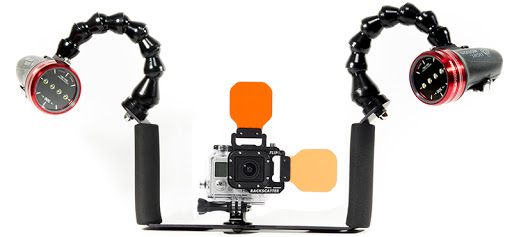 If you are ready to film underwater with a DSLR or cinematic camera, an underwater housing is a must. There are many types of underwater housings, but the best one for you depends on your budget and what you plan to film. The type of dome port you get for your housing depends on which lens you plan on using and you may need an extension if you have a zoom lens. You may also need lights and a case to carry your gear. Care and maintenance are also important in order to prevent catastrophic flooding of your housing. This gear is expensive and can be quite heavy, but the resulting imagery is what makes underwater filmmaking such a rewarding career.
Remember, though, the most important thing in underwater filmmaking is telling a great story!