Building a World-Class, Worldwide Ocean Exploration Program
Exploring the earth's greatest depths. Producing the tools needed to get there. Bringing together global partners. Our team designs, builds and operates some of the most capable underwater robotic technology in the field. Working closely with NOAA's Office of Ocean Exploration and Research, we share fantastic ocean exploration discoveries with the world. We actively seek opportunities for collaboration and are always hiring talented engineers and videographers.
When we are out exploring the oceans, we'll post a link to a live video feed on this page so you can follow along. You can always find recent news stories here. Be sure to check out the work of our award-winning videographers on YouTube. We are also active on Facebook, Instagram and Twitter—you can follow all three below.
Our explorations are funded through a combination of grants and private donations. And we welcome your participation!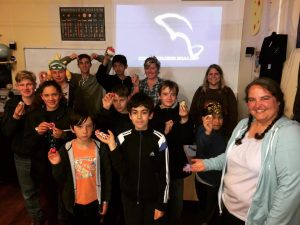 GFOE Videographers Bring the Deep Ocean to Students in New Zealand
Two GFOE team members recently had the opportunity to talk with students about the value of ocean exploration at the University of Otago and the Dunedin Space Programme in Dunedin, New Zealand. Annie White and Caitlin Bailey, who both work... More →